Wednesday, February 5, 2014
Emergency Preparedness Handbook for People with Access and Functional Needs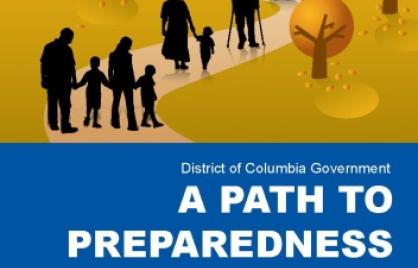 Introducing ODR's Path to Preparedness Handbook.
Created with the city's Health Emergency Response Preparedness Agency (HEPRA), this Handbook assists people preparing for, or recently transitioned to, community living in responding to emergencies and natural disasters such as a power or water loss, heat wave, tornado, earthquake, hurricane or snowstorm.
The innovative Handbooks have taken what is too-often a standard government product and created a real vehicle for self-determination: District residents with disabilities are using them to understand their rights and explore their needs, desires, and interests while also making meaningful choices about how they wish to live and participate in their communities. The Path to Preparedness Handbook was selected for presentation as a "National Best Practice" at the 2014 "Preparedness Summit", an event sponsored by multiple federal agencies.
ODR's Handbooks have been distributed at many District-sponsored conferences, fairs and events, including the Mayor's Annual Disability Awareness Expo. The Handbooks are also available for use by the general public. Please see the attachment below to print a copy.