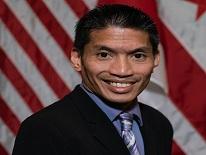 Prior to being named the DC Office of Disability Rights' (ODR) Director on July 3, 2017, Mat McCollough served as the Executive Director of the DC Developmental Disabilities Council. Before his tenure at the DDC, he served as the Communications Manager for ODR when the office was first established. He was the lead coordinator on issues related to Americans with Disabilities Act (ADA) compliance for DC Government. Between 2002 and 2008, he served as a Grants Manager and Trainer with the Association of University Centers on Disabilities and for the National Service Inclusion Project, a training and technical assistance provider that advocates on behalf of individuals with disabilities.
McCollough has either been elected or appointed to several commissions and boards that focus on health equity and human rights, including the Chair of the District of Columbia State Rehabilitation Council, Mid-Atlantic Regional Health Equity Council, and the District of Columbia Commission on Human Rights. Most recently, he was elected Board President of the National Association of Councils on Developmental Disabilities, and this honor represented the first time the Association elected a President with developmental disabilities.
In 2011, McCollough was appointed by President Barack Obama to serve on the United States Access Board, an independent federal agency devoted to establishing accessibility standards that promote the full integration and participation of people with disabilities. In 2015, President Obama reappointed him to serve a second term on the U.S. Access Board. McCollough received a master's in public administration from American University and a bachelor's in political science from James Madison University. He has lived in Washington, DC since 2001 and currently resides in Ward 6.