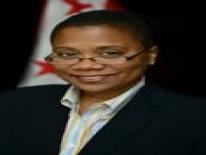 After serving as Interim Director, then Acting Director since August 4, 2014, Alexis P. Taylor was confirmed by the District of Columbia Council on July 14, 2015 as Director of the Office of Disability Rights. Prior to her appointment, Ms. Taylor served as the General Counsel for the DC Office of Human Rights since 2004. In her role as General Counsel, she was responsible for drafting administrative decisions, legislation, and responding to all legal matters in the office. In addition, she provided training on various local civil rights laws including the DC Human Rights Act, the Parental Leave Act, and the Language Access Act. She also provided training on the corresponding federal laws including Title VII of the Civil Rights Act of 1964 and the Americans with Disabilities Act to thousands of constituents including District employees and private sector staff. Ms. Taylor collaborated on EEO and ADA training programs with the Equal Employment Opportunity Commission (EEOC) and U.S. Department of Justice (DOJ). Finally, Ms. Taylor is considered one of the District's advisors on the DC Family and Medical Leave Act and has provided numerous trainings on the law.
Prior to coming to the Office of Human Rights, Ms. Taylor worked in the DC Office of the Inspector General as the EEO Officer and Special Assistant United States Attorney. In this capacity, she prosecuted claims of Medicaid Fraud and claims of abuse and neglect of vulnerable adults. Ms. Taylor began her legal career as an associate in a Chicago-based professional liability firm; she then worked as a policy analyst for the American Medical Association in Chicago, IL. Prior to law school, Ms. Taylor worked as a registered nurse at numerous District, Maryland, and New Jersey hospitals specializing in adult medicine and neonatal intensive care.
Ms. Taylor serves as co-chair of the Steering Committee for Employment and Labor Law Section of the District of Columbia Bar. She was also appointed as a member of the District of Columbia Committee on the Unauthorized Practice of the Law. Ms. Taylor received her Bachelors of Science in Nursing from Georgetown University and her Juris Doctor from Georgetown Law Center. She received her graduate law degree, Master of Laws (LL.M.), from DePaul University in Chicago.