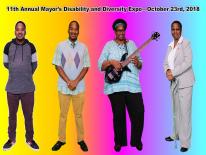 Last Date:
Location:
UDC Student Center - 4200 Connecticut Ave, NW
Details:
You're invited to this year's 11th Annual Mayor's Disability and Diversity Expo!
In recognition of October being National Disability Employment Awareness Month, we are celebrating by offering two free events in order to advance the conversation on equal opportunities and inclusive environments for people with disabilities.
This year's 11th Annual Mayor's Disability and Diversity Expo is complete with break-out informational sessions, over 30 exhibitors, free give-aways, and an accessible voting machine that you can try out. The District of Columbia is home to over 116,000 people with disabilities and this year more than 500 consumers, caregivers, advocates and students are invited to attend.
The 2018 Mayor's Disability and Diversity Expo Ambassadors
As part of this year's Expo, we have four ambassadors, all of whom are individuals with disabilities who have successfully accessed a DC Government program or service. These ambassadors work to promote the services that are available to all DC residents and to share how they have successfully accessed or continue to access these services. We are grateful for their leadership and for representing this year's Expo as 2018 Ambassadors.
The 2018 Ambassadors include; Keith Wright, Kevin Wright, Anjie Shelby, and Grace Odrick.
Keith Wright: "My internship I did with DC Department of Human Services (DHS) was very great. It felt that all the skills I received from being at IRS from multiple summers helped with the DHS internship. I was able to get involved with lots of design projects such as coming up with design sketches for the DHS website banner, making a logo for their Knowledge Center on their website, and designing many posters for the Office of Information Systems (OIS) team. With my knowledge of the design elements, I was able to produce fine design products for the OIS team. It was such a wonderful experience and I learned alot within those six months." To learn more about DHS and the services they offer visit, https://dhs.dc.gov/.
Kevin Wright: "The Aspiring Professionals Internship I did at the DC Department on Disability Services (DDS) was fantastic. The work I did was on Youth and Transition and how the youth can develop tools for themselves for their dream job. With the six month internship, I did People Planning Together (PPT), which is a 2-Day person centered thinking training were participants who are under the age of 30 can participate and develop tools based on employment. The participants create their One Page Profiles and Trajectory, so they can showcase them at their next planning meetings (IEP, ISP meetings). Back in September of last year I became a certified PPT trainer. My work was focused on helping youth develop employment tools. I also got a lot of experience by presenting at different conferences in state and out of state. DDS helped me a lot for my internship by bringing out the character in me and making me get involved and exposed to different things such as events or conferences. I really want to thank myself too because I stayed motivated and hungry for gaining a meaningful experience for this six month internship." To learn more about DDS and the services they offer visit, https://dds.dc.gov/.
Anjie Shelby: "I have been a client of the Rehabilitation Services Administration (RSA) since 2012, when they helped me enroll into The University of The District of Columbia, which I graduated from in 2016 with a Bachelor degree in Business. RSA helped pay for my, tuition, books, and transportation to and from school. They are currently aiding me with finding gainful employment." To learn more about the Rehabilitation Services Administration and how to apply visit, https://dds.dc.gov/service/vocational-rehabilitation-services.
Grace Odrick: "I am Grace "The Queen of Harmony" Odrick (Striving for unity amongst all). I am truly grateful to have received a grant from the DC Commission on the Arts and Humanities. This was a pure blessing. I submitted an application for my Poetry under the Arts and Humanities Fellowship program. The poems were about battles with my mental health issues. How I would recover then relapse so many times from my illnesses. How I would often be traumatized by those trained to help me. I wrote poems about how my love for music was helping me survive in this cruel misinformed world. But the truth is I am still living, loving and helping others to realize that they too can survive. Receiving this AHFP grant for 2018 has brought a renewing spirit to my Soul by giving me the strength to fight for my Life!!!" To learn more about the DC Commission on the Arts and Humanities and their funding programs visit, https://dcarts.dc.gov/service/grants.