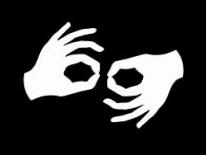 The Office of Disability Rights (ODR) provides sign language interpreter services (via a private contract vendor) for most DC agencies for meetings, conferences, trainings, and other interactions with DC residents and consumers who are deaf and hard-of-hearing.
The program does not provide interpreter services for DC Government Employees. Upon request, ODR will provide assistance to District agencies in identifying appropriate interpreting services needed by their employees.
If the request is approved, the requesting Agency will cover the cost.
Guidelines for the centralized approach to interpreting services:
Interpreters are available for events lasting up to one (1) day.
Interpreters are not available through this process for multi-day events or services (such as ongoing health care services, residential services, school classes).
Interpreters generally are not available on an emergency/short-notice basis
Interpreters are not available on holidays.
Interpreters are only available for travel within the District.
Interpreters are not provided for DC Government Employees or Agency contract vendors or consultants.
District Agencies can arrange for interpreter services independently when the request falls outside these guidelines at their own cost. ODR can assist with arranging for the service.
In the event that a District Agency must cancel the request for an interpreter with less than 3 business days notice, the Agency will be responsible for the full cost charged by the contract vendor for the cancelation.
Interpreters need to be requested with 5 business days' notice. (We will attempt to provide interpreters on less notice, but cannot guarantee availability).
Please review our Guide to Using Sign Language Interpreters which should be shared with all staff who work with the public.
We look forward to working with you to make it easier to accommodate DC residents with disabilities!
To find out more about ODR's Sign Language Services, watch the following video:
For more information, please contact Haydn Demas at 202-442-4692 or [email protected]